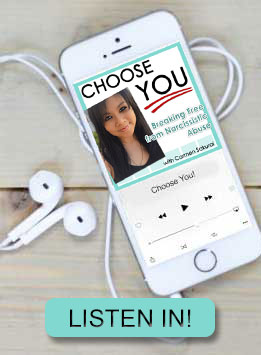 We're Talking About:
What types of people do narcissists target?
The lesser known, scientific phenomena that draws the narc and victims towards each other
What you can do now to protect yourself – regardless of where you are in your healing journey
And more…
[su_highlight background="#efd3d4″]If you are in a life-threatening situation, call the 24-hr National Suicide Prevention Lifeline at 1.800.273.8255 or the 24-hr Crisis Text Line by texting "HELP" to 741-741. Or call 911 or go to your nearest emergency room.[/su_highlight]
Was this show helpful?
Please leave me a quick review on iTunes. Sharing what you like about this podcast helps other survivors who are looking for validation, facts, solutions, & support find us… not to mention how much I appreciate reading your feedback! Thank you!
Subscribe to Choose You:
I invite you to subscribe to my podcast! You'll receive new episodes as they're posted… plus, you'll gain access to all upcoming bonus episodes including interviews with experts in the field and survivors stepping up to share their stories! You can subscribe via iTunes or by adding my RSS Link (below) to your favorite podcast app!



RSS Link. Copy and paste the URL into your podcast app: https://carmensakurai.com/chooseyou-rss
Submit Your NPD Questions:
Do you have questions you want answered on an upcoming "Q & A Tuesdays" episode about NPD and recovering from narcissistic abuse? Send me a message at dearcarmen@carmensakurai.com.

[su_button class="subbutpad" url="https://chooseyou.substack.com/" target="blank" style="soft" background="#81D8D0" color="#000000" size="8" wide="no" center="yes" radius="auto" icon="icon:wechat" icon_color="#fff" text_shadow="1px 1px 1px #000000"]Join Our Survivor Group[/su_button]