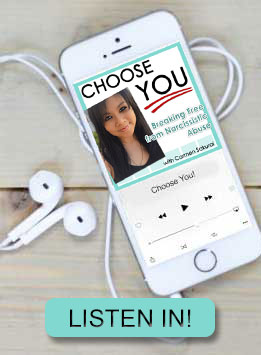 We're discussing:
Narcissistic Manipulation Tactics
Narcissistic Traits vs. Narcissistic Personality Disorder
Why Narcissists Do What They Do
Emotional Empathy vs. Cognitive Empathy
Post NPD Breakup: Disbelief and Denial
Types of Narcissistic Abusers
And more…
If you are in a life-threatening situation, call the 24-hr National Suicide Prevention Lifeline at 1.800.273.8255 or the 24-hr Crisis Text Line by texting "HELP" to 741-741. Or call 911 or go to your nearest emergency room.
Was this show helpful?
Please leave me a quick review on iTunes. Sharing what you like about this podcast helps other survivors who are looking for validation, facts, solutions, & support find us… not to mention how much I appreciate reading your feedback! Thank you!
Subscribe to Choose You:
I invite you to subscribe to my podcast! You'll receive new episodes as they're posted… plus, you'll gain access to all upcoming bonus episodes including interviews with experts in the field and survivors stepping up to share their stories! You can subscribe via iTunes, Spotify, SoundCloud, Stitcher, Google Play, and by adding my RSS Link to your favorite podcast app!
[su_button url="https://carmensakurai.com/download/10518/" style="soft" background="#f4cbe1″ color="#000″ size="8″ wide="yes" center="yes" radius="10″ ]Grab Your Worksheet[/su_button]
THIS WORKSHEET INCLUDES…
Damages Caused by Narcissists
Common Characteristics of Victims of Narcissistic Abuse
A Printout to Remind You that YOU are the Source of Your Love, Strength, and Identity… not the narc.
Narcissistic Abuse is Insidious… Most survivors report they weren't aware they were even in an abusive relationship, nor did they know what narcissistic abuse was, prior to being ripped through the shredder. The scary truth is: The narc has been demonstrating harmful behavior throughout your entire relationship. But due to several psychological manipulation tactics they utilized, you turned a blind eye to even the most blaring signs.
Healing from an NPD breakup is NOTHING like a breakup between two healthy people. This is a breakup with someone whose only motivation is to obtain external approval and admiration to regulate his or her self-esteem and validate their identity.
Tools & Resources from This Episode:
[su_button url="https://carmensakurai.com/download/10518/" style="soft" background="#f4cbe1″ color="#000″ size="8″ wide="yes" center="yes" radius="10″ ]Grab Your Worksheet[/su_button]
Submit Your NPD Questions:
Do you have questions you want answered on an upcoming "Q & A Tuesdays" episode about NPD and recovering from narcissistic abuse? Send me a message at dearcarmen@carmensakurai.com.

[su_button class="subbutpad" url="https://chooseyou.substack.com/" target="blank" style="soft" background="#81D8D0" color="#000000" size="8" wide="no" center="yes" radius="auto" icon="icon:wechat" icon_color="#fff" text_shadow="1px 1px 1px #000000"]Join Our Survivor Group[/su_button]