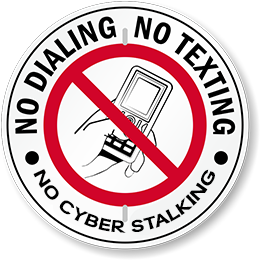 You have this overwhelming urge to text or call your ex. It's natural to want to feel acknowledged and validated… that you are someone special… but your ex isn't wired to give you those things right now (or ever), so STOP and re-focus your thoughts on things that won't make you feel worse…
… because inside you know that reaching out to your ex will leave you feeling LOUSY no matter how they respond. Why? Because YOU had to remind them to think of you. Someone who loves, respects, and adores you won't need any reminding about you. So DON'T text, DON'T call, and DON'T cyber stalk.
Things You Can Do Right Now Instead of Calling, Texting, or Cyber Stalking Your Ex >>

Hula Hoop

Get those hips rotating!

Write a letter instead

Those things you want to text or say to your ex? Write it instead... then rip it up and throw it away!

Go for a walk

Exercise is a great way to distract yourself, and burn anxious energy after a break up

Delete all your ex's contact information

Phone numbers, email, facebook, twitter, instagram... EVERYTHING!

Keep scrolling...

Distract yourself from doing something you'll regret by checking out more ideas on how you can keep yourself distracted

Think of the BAD moments

You want to connect with your ex because you're only thinking about the good memories... instead, recall all the times they treated you poorly and the nasty habits you've always hated

BLOCK 'em

This will protect you from seeing them on your news feed if a mutual friend tags them.

Go out for ice cream!

Treat yourself to something sweet... mmm you deserve it!

Color

There are many coloring apps you can enjoy on your smartphone or tablet... it's actually very soothing!

Take a hot bath...

Light some candles... take a good book with you... and relax with a glass of wine.

Take a nap

Let this moment pass by giving yourself time to recharge.

Visit your local animal shelter!

Sweet puppies and adorable kitties are magical stress relievers!

Rearrange your room

Change things up and allow yourself a totally new view!

Clean out your closet

No better time than now to get rid of clothes you don't wear anymore or that no longer fit. It's your chance to reinvent yourself with a new style!

Make homemade pizza!

Forget delivery or frozen... pick up ready made pizza crusts, some yummy sauce, and all the topping you want!

Buy yourself a little gift!

Flowers, candy, new lipstick, that game you've been eyeing, or dessert at the fanciest restaurant!

Paint your nails

Give your brain a break and focus on prettying your fingers!