Have you ever felt like your head is cluttered with so much to do, you don't know how you'll ever get anything done?
Not knowing how to organize your tasks leads to worry, stress, and discouragement. Maybe you already have a nice list of things to do, but find yourself feeling like no matter how much you've accomplished throughout the day, your "to-do" list just keeps on growing…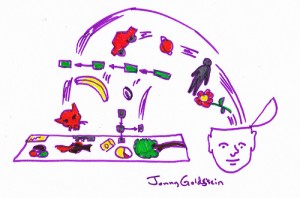 Every task, action, or project has a place and time. When these items are properly organized, you feel in control. As a result, the time spent on worrying is replaced with effective action. Here's a sample to-do list to help you accomplish more, while decreasing stress!
Inbox: Write/file EVERYTHING in here. The goal is to clear your head of all the clutter! Once you've written something down, you no longer have to store it in your head, allowing you to focus on what needs to be done now. =)
2 Min Tasks: This is where you file all things that can be completed in 2 minutes or less. Do them immediately, otherwise they won't get done at all!
Someday/Maybe: Just that. Vacations, new cars and homes… even your dream to one day learn how to fly a plane. They all go in here.
Waiting For…: Items requiring someone else to take action before you're able to complete it.
Calendar: Items that must be done on a certain day. Do you need to pay the cable bill on the 27th? Are you tuning in to a webcast on the 14th? File them in here and get it done on those dates!
[Tweet "A properly organized To-Do List helps replace Overwhelm with Effective Action."]
FREE Resources:
You can download David Allen's Workflow Diagram as well as his Advanced Workflow Diagram to help you get things done! The "advanced" version will explain in detail, how to use the Inbox, 2 min tasks, calendar, etc.
Also, check out Mark Joyner's Simpleology 101. You'll learn how to get more done in the same amount of time you've always had… plus find out how to eliminate common "energy leeches" and get back your stamina!
I'm working on being more efficient, organized, and less stressed… are you? How's it going for you?