Overfunction
Do you:
Feel responsible for others?
Do things for others what they can do for themselves?
Prioritize other people's goals and problems above your own?
Jump in to rescue when problems come up?
Feel like if you don't do it, it won't get done?
Feel resentful and "used" when your help is not appreciated (when you're the one who jumped in to take charge in the first place)?
If you answered "Yes" to the above, you're likely overfunctioning.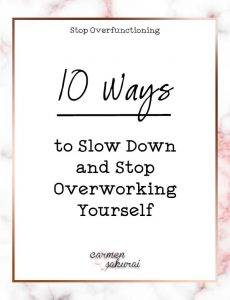 Taking on the needs and responsibilities of others (whether they want us to or not) is a distraction tactic to manage anxiety, where we focus on others instead of ourselves.
While it might seem selfless and generous, the truth is, not only is this damaging to ourselves, but we get in the way of other's ability to function properly.
Getting past it takes honesty as well as learning to assume responsibility for what is yours and letting others take responsibility for what is theirs.