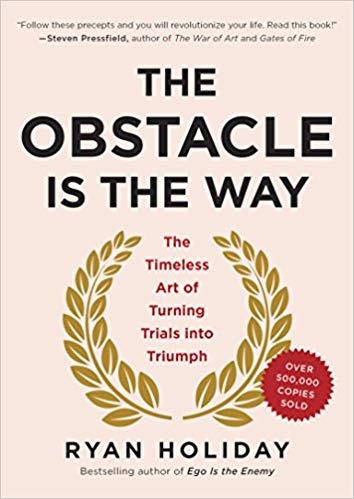 The book draws its inspiration from stoicism, the ancient Greek philosophy of enduring pain or adversity with perseverance and resilience. Stoics focus on the things they 
can
 control, let go of everything else, and turn every new obstacle into an opportunity to get better, stronger, tougher. As Marcus Aurelius put it nearly 2000 years ago: "The impediment to action advances action. What stands in the way becomes the way."  ~ Amazon.com
3-Sentence Summary5 Key TakeawaysMy Notes
The book is based on the philosophy of Stoicism to help turn adversity into success using the power of perception, action, and will. It reminds us that there is always a countermove, escape, or a way through; so setbacks are only natural and don't have to be worked up over. Just stay focused on the things you can control, and by doing so you magnify your power.
There is no good or bad without us, there is only perception. There is the event itself and the story we tell ourselves about what it means.
We must see things simply and straightforwardly as they truly are – neither good nor bad. This will be an incredible advantage for us in the fight against obstacles.
Does getting upset provide you with more options? Discipline in perception lets you clearly see the advantage and the proper course of action in every situation – without the pestilence of panic or fear.
Freedom from disturbance and perturbation – so you can focus your energy exclusively on solving problems rather than reacting to them.
Give yourself clarity, not sympathy.
Setbacks are part of the path… move over or around it like it was expected.
Acknowledge your emotions but don't marinate in it for too long. Get back out there and assess the reality… identify an alternate path and move forward accordingly.
Things are just as bad as we think. Change your perception and give yourself a break.
It's natural to feel angry or disappointed when faced with challenges… however, they likely won't give you more options or improve your situation. Shift your focus back to what you can do to pull yourself out so you don't have to keep feeling that way.