Hi, I'm Carmen.
Mom, Certified Cognitive Behavioral Life Coach, Mental/Emotional Wellness Specialist, Best Selling Author, and Advocate for Victims of Narcissistic Abuse.
My mission is to help overfunctioning and codependent women undo destructive thought & behavior patterns, so they have the confidence to defend their boundaries, find their voice, and live in alignment with their authentic selves. My personal experiences in overcoming narcissistic abuse and codependency are what fuels my passion for this work.
With over 20 years of education, training, and extensive personal and professional experiences in Mental and Behavioral Transformation, I use a combination of Strategic Intervention and Cognitive Behavioral Therapy to deliver powerful, meaningful, and long-lasting results for my clients.
NPD Abuse Recovery… I GET Your Pain, Confusion, and Obsession. I Believe You.
I have a BSc in Psychology and certifications and training in mental and behavioral health studies. I've interviewed individuals diagnosed with Narcissistic Personality Disorder (NPD) and coached clients to free themselves from attachment to narcissistic parents.
But my 20+ years of education, experience, and intuition in this field could not prepare me for my intimate relationship with someone who likely (pretty much 100%) suffers from this disorder. This experience has to be the single MOST horrendously painful, frustrating, and exhausting mind-funkery I have ever been dragged through.
With all the "real problems" other people were fighting through, I was extremely ashamed of myself for feeling so destroyed over a breakup… because I still had no clue what I was up against…
You see, the narcissist who finally turned my life inside-out, appeared as a kind, handsome, fun, intelligent, spiritual, attentive, successful, charming, generous, considerate, and passionate man… who was fascinated and supportive about me and everything in my life. If I could create the perfect life-partner without compromise, this man was it. He did not appear as the selfish, arrogant, and egotistical monsters NPDs are characterized to be.
It's true what they say when something is too good to be true. Because this experience left me mentally and emotionally destroyed, battling complex-PTSD, and fighting thoughts to end my life because the pain and confusion were multiplying at an alarming rate.
I thought my story was horrifyingly UNIQUE. Surprisingly, THOUSANDS of others were also living through it…
He rushed straight to the center of my heart in full force. We had so much in common… same sense of humor… same values, goals and fears… and I felt completely loved, accepted, supported, and understood. He was THE perfect partner… my best friend and soul mate who deeply connected with me in every possible level.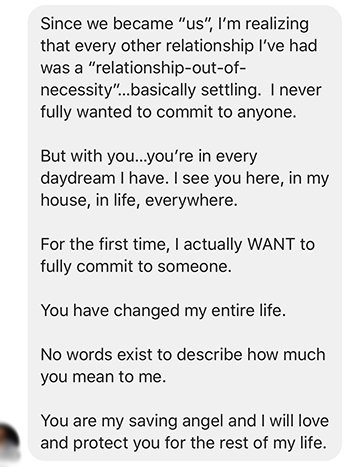 Within weeks of first TEXTING, he professed his "deep & pure love" for me. He loved me for who I was at my very core. He never knew what being in love felt like until "us"… all the love songs & poems made sense to him now… I completely changed his life… I was his saving angel who showed him what it felt like to be truly loved and happy. He vowed to appreciate me for the rest of his life… he was "never gonna mess this up."
Everything happened so fast… at times, too fast that I felt suffocated. But he reassured me it was because we were so in-tune with each other. He was without a doubt, THE ONE for me.
For nearly two years, we were long distance. Being apart was extremely difficult for me, but he was my rock. Encouraging me to have faith because he was confident in us… we were absolutely worth the wait. We connected as often as we could: "good morning" phone calls, texts throughout the day, facetime breaks, "good night" videos, and movie nights on weekends. As time passed, we agreed to increase our in-person visits to nourish our hearts.
We decided that my son Joshua and I will relocate to Houston (where he resides) as soon as Joshua finishes his dual-degree program here in Las Vegas on June 2019. This means we were finally going to blend our families in just a year and a half. We will have our forever and our kids were going to be the happiest, most loved children in the history of ever.
But throughout our relationship, he consistently managed to say or do things that felt… OFF. I chalked it up to ignorance, his confessions to "just being a stupid guy", or "his parents spoiled him so much that he can't relate to 'normal' people struggles." I was always making excuses for his poor behavior.
So where did all this over-the-moon love, deep connecting, life partnering, romance and passion take us?
October 20 2017, I caught him in a lie and discovered he had been cheating on me. He recently met a single mom at his kids' school who was more conveniently available and claimed he felt for her, the SAME deep connections he felt for me all this time.
By his own admission – he was sick of going to bed alone and couldn't wait for me anymore. His bank account was running dry… his ex wife had been the breadwinner for over 10 years and he could no longer afford his beautiful Houston home on his own.
I couldn't believe this was happening… what happened to my soul mate? It felt like I was watching him point a loaded gun at me and there was nothing I could do.
After shattering my world with this admission, he nonchalantly stated he wants to continue our relationship WHILE he pursued this new one. I declined and  he immediately (literally, within MINUTES) moved on with his new life like our relationship never happened.
He was gone.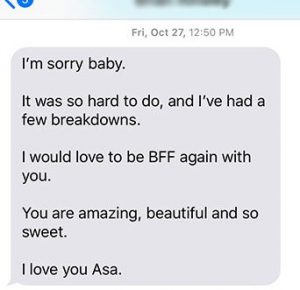 However, for the next several days, he sent me texts telling me how much he loves me. That I'm beautiful, sweet, & wonderful, but the time apart and distance was just too much for him. I will always have a special place in his heart.
At first, I felt a glimmer of hope. The protector of my heart still lives (result of prolonged intermittent reinforcement) But the REALITY of what he did immediately grabbed hold of my soul. After all we built, planned, experienced, and lived through together, he didn't even think twice about completely destroying me and abandoning me in this chaos… right before Christmas and New Years to boot.
He didn't care one bit about the pain he caused me. The distance and time apart was NO EXCUSE for him to treat me like this. No, this is NOT love.
I executed NO CONTACT and BLOCKED him from all social media,
my phone numbers, and email accounts.
Narcissistic Abuse Is INSIDIOUS
Listen, I spent years of studies and training in the fields of mental and behavioral health. But  I would've never been able to even remotely imagine the sheer magnitude of pain, confusion, loneliness and crazy making experienced under the hands of someone with narcissistic personality disorder, without living thorough it myself.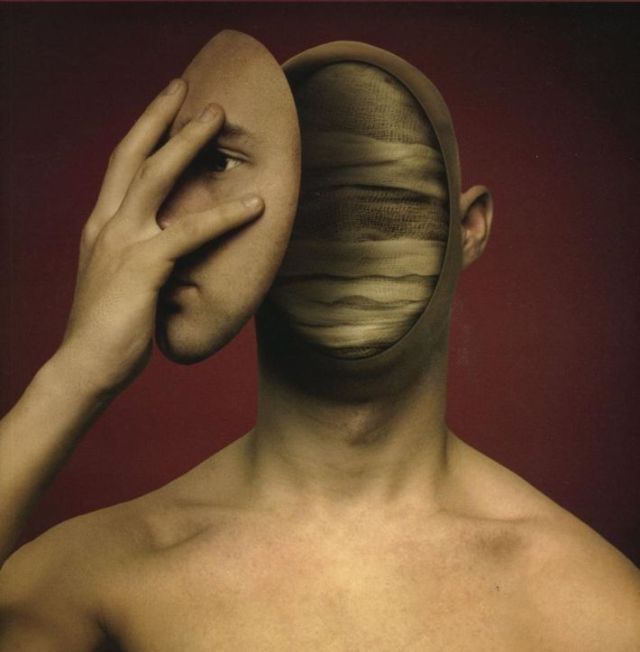 Yes, crazy making. You were their perfect… their soulmate and dream come true with a solid future together. Then in a blink of an eye, your entire history with this perfect person is wiped out and you're left to pick up the pieces, while they move on with a replacement – acting as though they don't even notice the characters in their life had changed. The aftermath leaves you feeling confused, abandoned, invalidated, and just barely able to function.
Here's another Carmen Fact: one area of coaching I specialize in is "breakup recovery." So, I did everything I was supposed to do after a split – implementing every single strategy that's worked flawlessly for my clients…
But I was getting NOWHERE.
Every day felt like a step closer to a slow and painful death. And even that is an understatement.
I constantly asked myself, "Did that REALLY happen?" "How could he just remove me from his life and instantly move on with someone else like WE never happened?"
I was obsessing… I just wanted him to tell me this was all a bad joke, fix everything, and bring us back to our happily ever after.
Some people around me couldn't understand what I was going through. They didn't get why I was unable to just "learn my lesson and move on." A few even suggested I was "addicted to drama.
But I couldn't blame the them for being frustrated in my lack of progress. Narcissistic personality disorder is so far removed from normal human behavior and logic that it's virtually impossible for those who never experience it to wrap their brains around it.
(I am so incredibly grateful for my family and friends who supported me even when they couldn't understand… and invested their heart, time, and effort to learn about the effects of NPD abuse. I know not everyone is blessed with such support. That's why I'm here… I believe you.)
Navigating My Way Out of Hell
Only after relentless researching and questioning did I finally realize what I've been up against all along: The Narcissistic Cycle of Abuse. Just ANY breakup recovery method was NOT going to cut it this time. Not a chance.
I joined support groups for victims of narcissistic abuse. I connected with hundreds of people who suffered frighteningly similar experiences as I have… relationships ranging from a few months to 25+ years… shared children… business partnerships… various backgrounds from across the globe… mental, emotional, and even physical abuse.
Armed with all the information I was digesting 24/7 about narcissistic abuse, I believed I was on the road to recovery.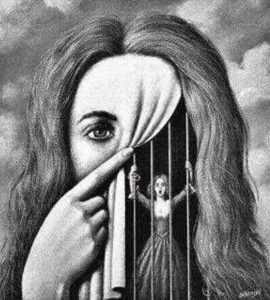 February 2018… FOUR MONTHS post breakup. I was successfully doing No Contact and focused on raising my son, growing my business, getting mentally & emotionally stronger and taking time for self-care. I was happily celebrating my freedom from the pain and suffering when all of a sudden – BAM!
I wondered how he could throw me away like our relationship… our goals and dreams… our blended family… meant absolutely NOTHING. How could she continue with the relationship knowing he was cheating on me with her… we are both single moms, aren't we supposed to be on the same team? How is she OK smiling with the man who promised to love me and my son forever?
He had power over me again.
How the holy heck am I still trapped in this?
C'mon, all I wanted was to love him and for him to love me back. And while that phony soul-destroying shell of a person was out there living up his life without guilt or remorse, I was being punished with emotional & mental suffering.
ARE YOU KIDDING? THIS IS NOT FAIR!
But you see, filling my brain with FACTS about NPD was only the START in my journey to healing . At this stage, I was just surviving the aftermath. I learned to cope… tolerate the pain. What I needed were SOLID solutions to repair the damage locked deep in my subconscious and BREAK FREE from "survival mode" for REAL, complete recovery.
The dance of insanity…
Your head understands how horribly you've been treated by the abuser… but your heart continues to long for the narc… hoping they will find you worthy of love again.
If you've been spinning in recovery limbo, I know you hate this dance as much as I do. It's the aftereffect of trauma bonding and cognitive dissonance. Simply devouring endless information about NPD to pacify our thoughts is not enough to give us the freedom to stop participating in this stupid, exhausting dance – FOR GOOD.
I'm a single mom of a bright-futured premed who counts on me. I have a business to run and a life I need to show up 100% for. I can't keep dragging myself through this hell of all hells! I don't want to keep fighting through pain and withdrawal symptoms. I don't have the energy to sit in depression and everything else that comes with being emotionally and psychologically abused!
My only option was to RECOVER and MOVE BEYOND the narcissistic abuse so there is nothing to "manage" anymore. I don't want to just be a survivor; I want to BREAK FREE.
So I did.
What Was He SAVING Me From?
I shifted my focus from "trying to understand the narcissist – their disorder, behavior, and why they do what they do" – back to MYSELF. I dug deep within and asked questions like
What were my heart, mind and body really addicted to?
What was I getting from him that I was lacking before he came along?

What was he saving me from?
REAL HEALING followed – very quickly.
Within weeks of implementing the self-assessments & recovery exercises on myself, I went from hurt, confused and surviving; to confident, clear and free. No withdrawals… no more "trying to stay strong" – JUST CLEAR & FREE.
Ripping off the bandage…
To completely bust out of this for good, it was necessary for me to look inward and be absolutely honest with myself. I looked back at my previous relationships after my divorce and realized they were ALL with mentally/emotionally unavailable, manipulative, and abusive people. I had to accept was that I was the common denominator in these toxic relationships… and being that I cannot escape from myself, I had to figure out how to STOP this cycle of insane self-sabotage.
Before you ask, "Are you saying the abuse is the victims' fault?"
NO. ABSOLUTELY NOT.
NOBODY deserves to be manipulated, tortured, and emotionally, mentally, and physically abused. NOBODY deserves the pain, suffering, and trauma by ANY abuse. The ABUSER is at fault for this hideous crime… and it is OUR responsibility to honor ourselves and learn from this experience so we NEVER sacrifice ourselves in exchange for a false sense of love and security again.
Identifying What the Abuser Was Pretending to Soothe…
We're intelligent, strong, loving, and respectable… so why did we put up with the narc's poor behavior which we CLEARLY KNOW are disrespectful, dishonest, cruel, and harmful?
It's because there was something already hurting deep inside us even before the manipulator showed up in our lives. That "something" weakened us to a point where we couldn't honor our own value and walk away from disrespect. They quickly sniffed out that "something"… our internal hunger, and spoon-fed us temporary, artificial "relief". This placed us in a vulnerable position where we were groomed to accept and turn a blind eye to their bad behavior.
I went deep to uncover layer after layer of the most uncomfortable feelings of dismissal, unimportance, and abandonment… as well as deep wounds from harsh judgments, expectations and conditional love. Many times, it was more pain than I could handle alone. Yes, I have used the crisis hotline just to get me through to the next moment.
The bottom line – I had so many unhealed wounds from the past that when I received even a little taste of "relief", I automatically identified whoever delivered it as my rescuer … any bad behavior thrown my direction by that person was forgiven, because the "scraps of relief" was worth having to face the tears, heartaches, pain, and confusion… alone.
Taking Power Away From the Narcissist
Instead of wondering why my ex behaved as he did, I began to look for every single one of my broken spots that I felt he was the "cure" for. Then I faced it head-on and repaired them.
The narcissist quickly became IRRELEVANT. After acknowledging and healing my own brokenness and emptiness, I began idealizing and love-bombing myself… and that's exactly what I needed to break free.
My former "knight in shining armor" was no longer the source of love and strength in my life.
This was quite a breakthrough because if he's not the source of all good things in my life, he does not have the power to take them away . In reality, he was a needy virus that went straight for the unhealed parts in me that needed repair… and infected those wounds so I would become dependent on him – handing him so much power over me.
Healing those injuries gave me the space and energy to grow stronger, more confident, and happier. I finally felt whole, safe, and complete. The narc was powerless against me.
Understanding everything about the narcissist is not the answer to complete healing and recovery… after a while, you'll only find yourself stuck in "survival mode" constantly trying to fight through the pain and hoping time will heal your wounds.
REAL RECOVERY comes from healing yourself on the inside so you are healthy, free, and no longer susceptible to disease spread by toxic people from the get-go!
I'm here to help you… and I'm on your side 100%.
Let's Get Personal…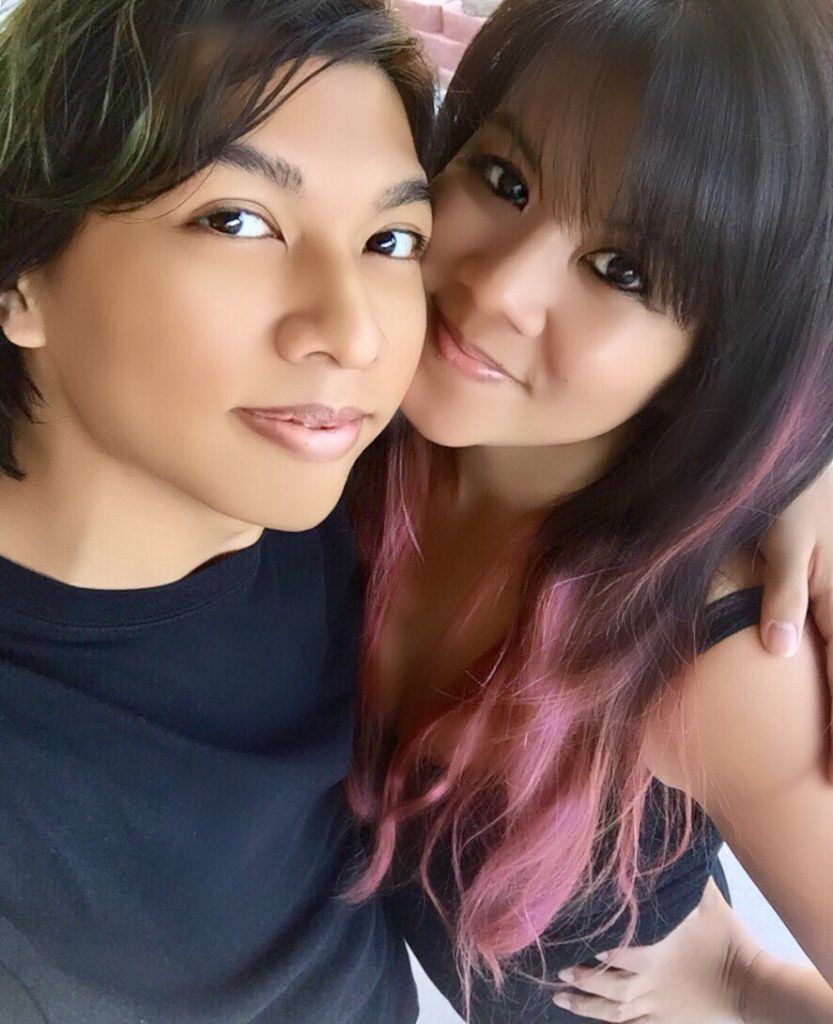 Carmen is the Founder of Carmen Sakurai, Int'l, with a BSc in Psychology and certifications in Cognitive Behavioral Life Coaching as well as Mental and Behavioral Health Studies with focus on Stress Management, Burnout Prevention, Depression, and Suicide/Violent Behavior.
She has trained in Strategic Intervention which encompass: human needs psychology, strategic therapy, social action therapy, direct and indirect negotiation, structural family therapy, life-cycle theory of business organization, mediation and conflict resolution techniques, and organizational psychology; and utilize the Triangle of Conflict: a process to help individuals reconnect with core emotions like joy, anger, sadness, fear, and excitement for a more engaged and authentic Self.
As a Certified Digital Coach, she has demonstrated her ability to effectively and successfully serve her clients via digital platform.
You can find her articles on popular websites including Psych Central, Ricky Martin's Piccolo Universe, SheKnows, Little Things, Lifehack, and Thought Catalog.
Carmen currently resides in Las Vegas, NV with her favorite son Joshua. She is an elementary grade Religious Education teacher at her church and a proactive advocate for victims of narcissistic abuse.
Visit Carmen's Lifestyle Blog: https://ItsCarmenTime.life
Fun Carmen Facts…
» Random…
Serious bubble tea addict
Her EOS lipbalm goes everywhere she goes
Her idea of "working out" is hula-hooping or randomly breaking out into a Tahitian dance
Astrological sign: Cancer
Goes to see The Avengers movies for a glimpse of Thor
Fantasizes being on Food Network while cooking meals
Uses the "Enligh is my second language" card whenever possible
Myers–Briggs personality type: INFJ
» Watchlist…
Kingdom
Mr. Robot
Sherlock
Twin Peaks
Grimm
Parks and Rec
Wakako Zake (anime and drama)
Samurai Gourmet
Koufuku Graffiti (Gourmet Girl)
Gintama
Ms. Koizumi Loves Ramen Noodles
Isekai Izakaya: Japanese Food From Another World
Attack on Titan
I use Audible to listen to books while I cook, clean, and hula hoop!